DIY Hardwood Floor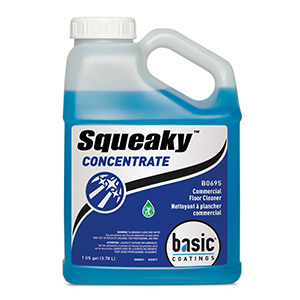 Just cleaning your wood floors with the proper product can make a big difference in the look of you floor. "Squeaky" made by Basic Coatings is THE product. It will not leave your floors looking hazy and dull.
Why not invest in a good cleaner just like you invested in your wood floors
Thinking about sanding your wood floors? Consider that you may only need to re-coat. We have the only proven dustless system by "Basic Coatings" on the market to make your floors look like new again.
Squeaky is included in a simple process to renew your floors.
For normal weekly wear on your floor, use Basic Coating Squeaky for normal wear on floor.
Every few months, use Basic Coating IFT, then Squeaky. Intensive Floor Treatment will go farther than just the normal Squeaky clean.
To aggressively remove grease, dirt, and grime, use IFT with Basic Coating Dirt Dragon, followed by Squeaky, then Basic Hardwood Floor Refinisher.
About every year or when you see wear to your floor, try using this system to prolong having to get your floor sanded:
Use IFT, Squeaky, TyKote, then StreetShoe. More details about this process are here:
A brief video showing how easy it is to apply Squeaky: Squeaky_Video
It may sound like it will take days to do, but in 24 hours, your wood floors will look like a professional sanded and refinished your floors. However, it was simply done by you !